Savoring Lisbon's Summer Sunsets: The Best Rooftop Bars for a Spectacular Evening
As the summer sun gracefully dips below the horizon, there's no better way to soak in the mesmerizing beauty of Lisbon than from a rooftop vantage point. With a cocktail in hand and a panoramic view before you, the city transforms into a canvas of warm hues.
Before Summer is over, we unveil the finest rooftop bars that offer not only refreshing drinks but also the most unforgettable sunset vistas that Lisbon has to offer.
Silk Terrace at Bairro Alto Hotel
Perched atop the historic Bairro Alto Hotel, Silk Terrace is an urban oasis offering unrivaled sunset views. With the Tagus River stretching before you and the city's rooftops as a backdrop, savor the moment with a carefully crafted cocktail in hand. The combination of chic ambiance and breathtaking scenery makes this a must-visit destination.
PARK Bar
High above the Bica Elevator, PARK Bar is an urban haven boasting a trendy yet laid-back atmosphere. As the sun sets over the city's hills, the bar's industrial decor and eclectic seating create the perfect backdrop for an evening of relaxation. Sip on their signature cocktails and watch as Lisbon's landmarks shimmer against the dusky sky.
Sky Bar at Tivoli Lisboa
The Sky Bar at Tivoli Lisboa offers a luxurious retreat in the heart of the city. This rooftop gem provides panoramic views that encompass the São Jorge Castle and the vibrant Avenida da Liberdade. With an extensive cocktail menu and plush seating, you'll find yourself immersed in the beauty of Lisbon's twilight hours.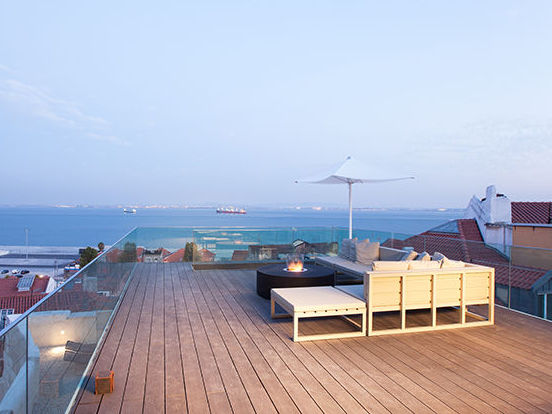 Memmo Alfama Terrace
Nestled within the enchanting Alfama district, the Memmo Alfama Terrace offers an intimate setting for sunset seekers. Gaze out over the terracotta roofs and the glittering river as the sun casts a warm glow. The cozy atmosphere and attentive service make it an idyllic spot for a romantic evening.
Topo Martim Moniz
Topo Martim Moniz is a hidden gem with an urban garden ambiance that perfectly complements the panoramic views. From this elevated spot, you'll witness the sun's golden embrace on Lisbon's iconic hills. Pair the moment with refreshing cocktails and a delightful selection of Portuguese snacks.
---
As summer paints the sky with shades of gold and orange, Lisbon's rooftops beckon with the promise of captivating sunsets. Whether you seek a luxurious setting, a trendy ambiance, or an intimate retreat, the city's rooftop bars offer an array of options for enjoying the breathtaking spectacle. So, grab a seat, raise your glass, and immerse yourself in the magic of Lisbon's summer sunsets.