Embrace the Charms of Autumn: 5 Unmissable Experiences in Lisbon
As summer fades into the horizon, Lisbon transforms into a canvas of warm hues and cozy vibes. The fall season ushers in a unique charm that's all its own, inviting you to explore the city's hidden corners and embrace a different kind of magic. In this article, we unveil five unmissable experiences that will make your autumn visit to Lisbon truly unforgettable.
Stroll through Alfama's Golden Streets
Autumn casts a gentle golden light on Lisbon's historic Alfama district, making it a picturesque wonderland. Embark on a leisurely stroll through narrow alleys adorned with cascading vines and blooming bougainvillea. As you explore, the soft sunlight casts enchanting shadows and highlights the intricate tilework adorning the facades.
PS: don't forget to bring comfy and weather appropriate shoes! Alfama has its ups and downs (literally) and you'll for sure achieve your daily steps goal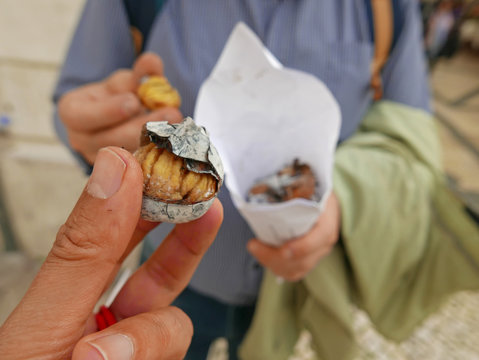 Taste Lisbon's Harvest Flavors
Known as Sao Martinho, Saint Martin's day falls on November 11. This iconic fall holiday celebrates a man who cut his cloak in half during a snowstorm to keep a beggar warm. However, the holiday in Portugal now celebrates the maturation of wine production during the year.
The staple of this holiday is the roasted castanhas (chestnuts), which are tasted along with wine in the magusto, a celebration festival.
Most Portuguese towns have a magusto during the holiday, as well as different São Martinho parties. In Lisbon, head to Fabrica da Musa, where you will find castanhas, artisanal beer, wine, and loads of Portuguese food.
Throughout Fall, you will also find castanhas being sold all over the city. They are roasted in front of you in a wheeled quiosque, and the smell is unbelievable! The castanhas are then served by being wrapped in paper into a cone.
Explore Belém's Cultural Tapestry
As the tourist crowds thin out, delve into the cultural riches of Belém's museums and monuments. Wander through the expansive gardens of Jerónimos Monastery, where fallen leaves create a tranquil ambiance. Immerse yourself in art and history at the Berardo Collection Museum, home to an impressive array of contemporary masterpieces.
Watch the Sunsets from Miradouros
Lisbon's panoramic viewpoints, or miradouros, take on a different allure during fall's golden hours. Head to Miradouro da Senhora do Monte or Miradouro de Santa Catarina to witness the sun setting over the city's terracotta rooftops and the Tagus River. The cooler temperatures make these moments of serenity even more enjoyable.
Attend Cultural Festivals and Events
Fall in Lisbon is also a season of cultural celebration. Attend festivals such as the Fado Festival, where the soulful sounds of traditional Portuguese music resonate through the city's historic streets, or the MIL festival, dedicated to the discovery, promotion, valorization, and internationalization of current popular music, as well as to a reflection on cultural policies and practices. Immerse yourself in film screenings, art exhibitions, and theater performances that embrace Lisbon's creative spirit.
Lisbon's autumn weaves a tapestry of colors, scents, and experiences that are uniquely captivating. From leisurely strolls through historic districts to savoring the rich flavors of the harvest, the city invites you to embrace the fall season with open arms. As the city settles into a tranquil rhythm, immerse yourself in the golden moments that make Lisbon an unmissable destination during this enchanting time of year.
Did you know our tours are active all year round?
Just pick your favorite. The rest is up to us.